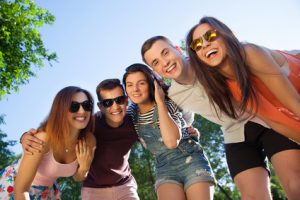 LANGUGE TRAVELS
The best and most effective way to learn a foreign language is to go to a country in which this language is widely spoken. In Germany such language travels and intensive courses abroad  are often considered to be a form of Bildungsurlaub  and are treated by companies as an investment in the development of an employee. So invest in your Polish language skills or learn Polish from scratch and gain new advantages on the labour market.
What are the advantages of learning a foreign language abroad?
The immersion into the language enables you  to improve your Polish and learn new language skills in a very short time.
Multilingualism brings tangible benefits in the business world. The more languages you speak, the better career possibilities you have.
After the successful completion of the course you may pass the international certificate exam in Polish.
The time spent abroad and direct contacts with the locals enable you to immerse into the Polish culture and experience the local way of life.
You have a possibility to establish international relations which may be profitable in the future.
Language travels are eye-opening and essential for the personal development, they also broaden your horizons.
From June to September the POLI Centre offers wide range of summer language courses in Poland which can as well be used as Bildungsurlaub. What is unique about the POLI Centre courses is that you can freely choose when to start a course and how long should it take (for Bildungsurlaub we recommend an at least one week intensive course). What is more, you can decide by yourself how intensive your course should be and how to spend your free time.
More info: Polish Summer Courses – Offering