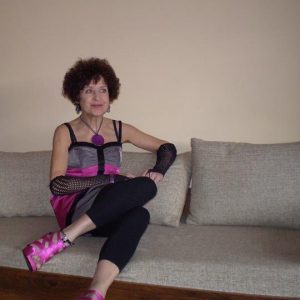 Eva  Wierzuchowska, has been living and working in Poland since 2007. She is an artist, writer and teacher of English in Sopot. Her oil paintings have been exhibited and sold here in Tricity as well as the UK. Her passion for writing came at the early age of 11, writing plays, short stories and poems, some of which were performed and published. Though being British born and bred, her second language being Polish, she began to experiment with poetry written in the language of her ancestors. Her parents from Krakow, emigrated to the UK in the 1950,s. In her spare time, Eva enjoys long distance hiking and cycling, and last year, in 2017, completed 2000 km cycling tour around Poland.
My Polish Muse
I have been living and teaching English in Poland since 2007, though I was also here between 1992 and 1994.
My decision to leave the U.K. permanently was a final and definitive choice, of which I have no regrets. Apart from teaching in Wroclaw, Lublin and Gdynia, I now teach privately in Sopot.
When living in UK, I used to regularly write poems for magazines and poetry periodicals; until running out of inspiration. Although a few years ago, I wrote a couple of plays and sketches which were performed by my Polish Drama Group in Sopot.
Because I was immersing myself in Polish through everyday conversation, television and reading material I automatically began thinking and writing creatively again in that language. I desired to share my poetry and be able to perform or publish it.
It seems ironic as I used to write English poems about my Polish ancestry; my grandparents from Zakopane and other family from Krakow.
My parents met in UK in 1950's and decided to settle there. However our household was rich in Polish culture and the language was exclusively Polish.
My choice to live in Poland after their decease was based on feeling more comfortable in the land of my ancestors.
This Polish poem "Polska kultura", describing my thoughts on the changing face of Polish Culture focuses on the post-Communist era of the 90's into the more modern, European 21st century.